here!

See you soon!


2011-11-03
New video by Iacopo Patierno. Kissing Cousins and Hustling - Markis Sage



Kissing Cousins and Hustling by Markis Sage from Iacopo Patierno on Vimeo.




2011-11-02
Last week we released the new album from Sjöarna. Me, Pelle Lindroth and Andreas Söderström. It's great, I assure you!

Buy your vinyl here!

Listen to it on Spotify here!

Me and Mesak, Markis Sage, will release our debut album, Paper Boat, this fall on Lonosofono. First on cassette and later on vinyl. It's also great. You know it!


2011-09-28
The album, Bring The Dead, is here! Listen to it here on spotify! Don't have it? Get it here on itunes or order from any of your favorite record stores. Good stuff!

I will celebrate the release with a party at Strand in Stockholm next saturday the 8th of October. There you can also see me preform with my all new band featuring Nya Sampan on keys, Daniel Bengtsson on Bass and Martin Sörbom on drums..

Also - In two weeks I'll release a new album with my new band Sjöarna. Me, Pelle Lindroth, Andreas Söderström and Cecilia Österholm. Stay tuned for more news about that.


2011-09-06


New video by Anders Ekert. Shot in my hometown Björkling, Flogsta and Årsta. Don't miss the release party for the new album at Strand on October 8th.


2011-09-06


New band, new album. Out October 19th on F&F.
2011-06-15
This is a link to my new single, These Days

Enjoy!


2011-06-10



2011-05-25


Finally I see the release of Rigas den Andre's second album, Speed Run. 8 tracks of pure skweee. It's released digitally and also on a limited edition set of 2 seven inches with 4 tracks.

Buy the album here:
Itunes
Klicktrack

Check out this nice review in swedish music magazine Gaffa here!

To order the seven inches for 9 euros just send an email to order[at]brilliant[dot]nu.
2011-05-05
Download the new single for free.

Rigas - Make It Rain (ft. Baba Stiltz & Anna Maria Espinosa)


2011-05-04
Yes! Here it is! Brand new and shiny!

Rigas - Make it Rain feat. Baba Stiltz & Anna Maria Espinosa by florafauna
2011-04-20
Rigas den Andre - Dead Ponies by florafauna
2011-04-14
Long time no hear! Been busy in the studio for a long while. Soon comes the results. A brand new Rigas single, entitled Make It Rain (feat Baba Stiltz and Anna Maria Espinosa), will be out on May 4th. It's taken from Rigas' new album, Bring The Dead, that is due out in September.

I've also finished a skweee album with Rigas den Andre entitled Speed Run and it will be out in May.

Also check out this remix I made for Elias Krantz: Elias Krantz - Tody MotMot (Rigas Remix)


2010-07-01
Here you go! Download a remix of W.A.S.P. (What's Your Poison?) from Rigas den Andre's latest album, Guilty Feet, No Rhythm.

Rigas den Andre - W.A.S.P. (What's Your Poison?) (R2 Remix)


2010-06-30
2010-05-31


New video from Markis Sage (Rigas Den Andre and Mesak). Album is finished and will be out later yhis year.
2010-03-09
Yes! Tomorrow it's finally here! Let's Get Gone, my third album. We celebrate this with a massive party at Lilla Ukraina in Årsta. The best club around. We've invited som very, very fine guests indeed.

Live:
Conny Nimmersjö
Joxaren
Rigas

Djs:
Jenny Wilson
Joxaren
F&F

Sat 13/3, Lilla ukraina, Valla Torg, Årsta, 20-02, 80 sek

register at www.lillaukraina.org to get in and be there early!

order the album here!


2010-01-11
2009-12-02
I have just finished my third album! It's called "Let's Get Gone" and will be released early march 2010. The album has been written and produced by myself together with Pelle Lindroth (Parken) and feature guest appearences by Anna Maria Espinosa and Jenny Wilson amongst others. Look for a single and video in mid january. 2010 and great!



2009-10-07
OK folks, we're moving! This is the first single from my third album that will drop in february on Flora & Fauna. It's written by me and Pelle Lindroth and features guest vocals from dear Pelle and Stefan Storm. Patrik Berger helped me record the vocals. David Giese and Daniel Bjugard helped me by making this video that we filmed at this lovely cottage in the Stockholm archipelago.





2009-09-15
New video to the title track from Rigas den Andre's debut skweee album out on Flogsta Danshall 090909.

br>



2009-06-22
Ok! I'm about to start working on a new album. A single will be out in August. This summer I will tour the festivals in Sweden with Parken and also do some shows on my own.

I have also finished an album as Rigas den Andre which will be released 11/9 on Flogsta Danshall. Top skweee! So here's a little treat for you from the last EP:

Rigas - Simple




2009-05-13
New Rigas Den Andre track taken from the skweee compilation "Skweee Tooth" out now on Ramp Recordings.





2009-04-17
2009-03-23
Ok! I'm here again. Been very busy during the winter. Loads of news.

On April 22nd I will release an exclusive, limited edition, 7" with 4 tracks.

Tracklist:

A1. It's a Shame
A2. Simple (completely new song that I recorded with Pelle)
B1. Your Friend (Cover version by the Sound Of Arrows)
B2. Stench Of You (Stench Of Pavan skweee-version)

Does it look good? Well, yes it does. Order your copy at the shop at www.brilliant.nu!

More;

-Last week I released an EP with Rigas Den Andre called The Valla Torg EP on Harmönia.
-On april 8th Flora & Fauna will release an album with Marions, a folk group consisting of me, Maria Törnqvist and the omni-present Nya Sampan.
-I've finished production work on The Sound Of Arrows debut album, due this fall.
-I'll have one new Rigas Den Andre-song on the Ramp Recordings Compilation Skweee Tooth.
-I've finished an album with Rigas Den Andre which will be released on Flogsta Danshall this Summer.

I'll keep you updated as soon as I have more info.


2008-09-23
2008-08-20


Parken - Jag Har Varit Vilsen, Lisa

It's been a long summer indeed. Loads of good shows. Sónar was excellent, Tsotti beautiful, Cargo a bit early, Arvika a bit late and so on. We're approaching the fall. Parken's debut album that I've been working on is done and will be out september 10th. Hooray! I'm making plans for four 7-inches. To be released in November maybe. fingers crossed. Anyway, enjoy the new Parken single and stay on track!




2008-06-24
As Rigas den Andre I just came home from the Sónarfestival in Barcelona. It was extra, extra good.

Some live dates in July:
Tsotti, Helsinki, 08-07-04 (as Rigas den Andre)
Arvikafestivalen, Arvika, 08-07-05
Cargo, London, 08-07-12 (as Rigas den Andre w/The Herbaliser)

Buy your tickets for the London show here!
Or get one for free by sending an email with your name and adress to rigas[at]brilliant[dot]nu. Two winners will get free tickets!


2008-06-06
Here's a nice treat. Me, Parken and Anders Rudström performing Parken's Åt Helvete Med Himlen for SVT's PSL at one of my favourite Årsta spots, tjackisgläntan.



Also, I get a fine mention in the Pitchforkmedia's forkcast today.


2008-05-19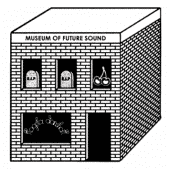 Rigas Den Andre has a new track from the new Museum Of Future Sound vol 2 out now on Flogsta Danshall. It's called I Am Crane. Listen to it here: Rigas Den Andre Myspace

I'm going to play this year's Sónarfestival in Barcelona.

Me and Mesak have a new Markis Sage 7" on the way. Mad Processor and the Mighty Vallatron. Hopefully we'll have it by the time we leave for Sónar.

The Parken album is almost finished and will be released the 5th of September according to plans.


2008-04-21


The new EP is here! two brand new Rigas tracks. I like them! They're all yours!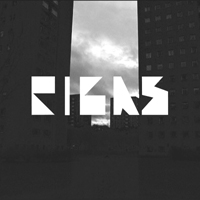 Rigas - Born Not To Run
Rigas - What Are You Dreaming Of
2008-04-14


It's that time again! Don't miss this one. I'll see you there.


2008-04-08
Newsflash! I'm working on a new single and video. The track is called "Born Not To Run" and will be out April the 30th. It's really good. The B-side is not yet finished but it's getting there.


2008-02-18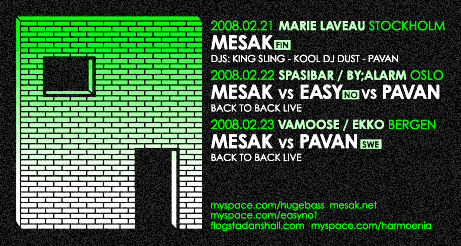 Skweee hits town! Don't miss my finnish friend Mesak live alongside DJs Pavan, King Sling and Dust, this thursday the 21st of february at Marie Laveau.

http://www.mesak.net
http://www.flogstadanshall.com


2008-02-10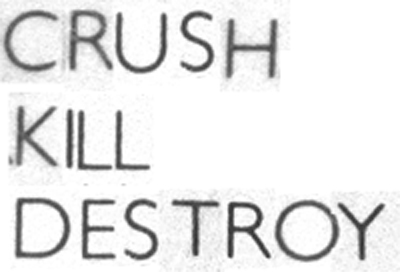 New skweee from Rigas den Andre. Enjoy!

Rigas Den Andre - Crush Kill Destroy


2008-02-07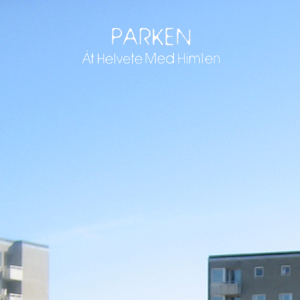 Here's the new single from Parken, produced by me and him. It is good, so good.
We're playing records at Snotty's in Stockholm next wednesday the 13th of february to celebrate the release of this one. please stop by if you feel like it.

Parken - Åt Helvete Med Himlen


2008-02-04
Hey yous. I'm currently working on the debut album from my dear friend Parken and it's goin well I must say. The first single, åt helvete med himlen, will be out in a couple of weeks and the album is due in September I guess. Parken is actually Pelle Lindroth and you've heard him sing on most of my stuff and seen him on stage beside me tearing it up. He is awsome. I dare say!

Go ahead and vote for me at this list thing in a Danish Magazine. Vote loads. Do it! please! Vote!

I'll get back to all of you soon. There will be some sort of Rigas release this spring as well I guess. I have loads of new stuff and I need to get rid of it in one way or the other. But trust me, You will be the first ones to know. All the best!


2008-01-02
Happy new year! This will be a great one indeed. Speaking of positive, I just finished a new track with Rigas den Andre and it's called Rather Be Dead. It's what 2008 should be all about.

Rigas den Andre - Rather Be Dead


2007-12-05
There will be a nice party for those of you who are in Stockholm this weekend. I'm releasing a 7" on my label Temporarily Morons with the band Markis Sage (me and Mesak from Harmönia and mr. velcro fastener). It's proper violent skweee and it rocks. Apart from that Pavan is coming out with three new Flogsta Danshall singles (one of them by none other than Rigas den Andre). So, four brand new skweee-singles out this weekend.

We celebrate this at Tranan this saturday the 8th of December. Kool DJ Dust, Rigas den Andre and Pavan are playing records and entertaining the whole night through and hopefully some finns will bring some Rigas balsam from the viking ferry. free entrance but singles will cost you 40 sek. Be there!

Check out the Markis Sage single here!


2007-12-03
The video is done! Absolutely fabolous!



Check also this unplugged performance of the same song at the closed highway in Årsta. We look like bums. But this is actually how we dress. I'm sorry. No glamour this time. It was amazingly cold. Spit froze on the way to the ground. It's true!




2007-11-21
I'm currently working on the video for "The Hardest Pocket to Pick", it will probably be finished next week. All shot in my tiny årsta studio.
Next week I will perform the hardest pocket unplugged with horns, guitar and accordion out by the closed highway in årsta on PSL.
I'm booked to play Debaser Medis in Stockholm the 21st of December alongside Lo-Fi-Fnk. A good night to look forward to.
Nice review of the album in Sydsvenskan, 4/5.


2007-11-07
-Thanks a bunch to all of you that came to the release party. It was awsome. And you know it!
-If you just can't get enough of me you can hear me on swedish national radio p3 this wednesday the 7th of November on the show P3 Populär.
-Tomorrow wednesday you can first see me perform two tracks live at MTV Phazer at 18.00, later in the evening you can catch an interview and some songs on swedish national radio p3 show P3 Lab at 22.00.
-Then on friday I will play live in Uppsala at Uppsala Konsert och Kongress. Show starts at 22.15.

See you all around!


2007-10-23
Well the album has just arrived from the presses. Extremely late but hey. It will be out tomorrow and we will celebrat the release at Landet in Stockholm with a nice big party.
-Release party at Restaurang Landet, Stockholm, oct 26th, 20-01, 50 sek. Live: Rigas & Balroynigress Dj:s Pavan, Rigas and SVMK.
-I will perform Live at Studio Virtanen in TV8 tomorrow wednesday the 24th of october.
-Thursday the 25th I will play Klubb Republik in Norrköping.
-The album has gotten nice early reviews in Sonic (7/10) and Ergo (4/5).
-I was featured in p3 pop on swedish national radio with a nice long interview and a bunch of songs. Listen here!


2007-10-10
Pre-order my new album album and get it shipped to your door on the day of the release for a real bargain price. Just click here and place your order.




2007-10-01
Today I give you my second single from The Hardest Pocket to Pick. It is the title track and you can download it here!


2007-09-18
New track, "there's no breaks left for you", out from my evil twin Rigas den Andre. Download it here!


2007-09-07
The album has now been sent to the presses. 9 songs. Pure bliss. It will be released on october the 17th. I've put two of the songs from the album on myspace. Hope you enjoy them as much as I do.


2007-08-23
Well, I'm finished. It's not an EP anymore, it's an album. It's called the hardest pocket to pick and it will be out in mid october. 10 great songs. I guess. Right now I've been listening to them a bit too much. Need a break. I'll get back to you soon with more info. your sincerely Rigas


2007-06-12
The new single is out! Download "Dead Like You" here! It features guest vocals from the ever so lovely Malin Dahlström and I'm currently working on an awesome cheap ass video that hopefully will be finished in a couple of weeks.


2007-05-30
Oh, it's been a while. I've been busy producing the Chrysler album and the new one from Moder Jords Massiva. But I've managed to get some good work done as well.

-Rigas den Andre has 2 new tracks at myspace.
-Rigas den Andre will go on a Finland tour the 8th (Turku) and 9th (Helsinki) of June.
-Moder Jords Massiva has posted 2 Rigas remixes on their myspace.
-Rigas has recorded some really nice stuff for the new EP due in september and will release a single in early june.
The Ep is entitled "the hardest pocket to pick".


2007-01-16
Greetings and a happy new year to you. Some news:
-Rigas will perform live at the hybris club night at O-baren, thursday the 25th of january.
-Rigas den andre will release a 12" on Harmönia alongside boys of caligula this spring.
-I have made a collaboration with Mark O'Sullivan (DK7, mighty quark) that will be out on vinyl in february.
-I'm working on a vinyl EP that will be out in April.
that's all for now!